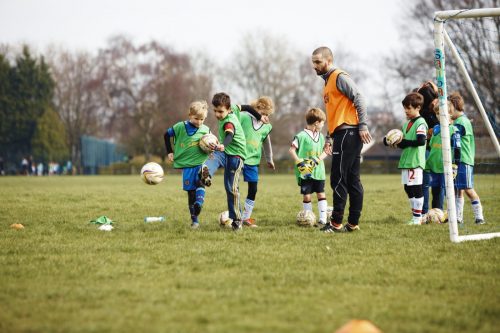 We currently offer two Football sessions Every Saturday Morning, Fit4Kidz & Fit4Totz
Fit4Tots:
Age: 2 – 5 years
Time: 9.30am – 10am
About:
Fit4Tots aims to develop children's foundation motor skills together with their basic football skills in order to prepare children for a future in sport. We encourage the children to participate within our sessions independently, however if your child has just joined us you may need to stay close-by to give extra support and encouragement. We try to adapt our sessions to suit the ability of the children to ensure that it is suitable for complete beginners as well as advanced learners.
Fit4Kidz:
Age: 5 – 11 years
Time:
9:00am – 10:30am (Reception & Year 1)
10.30am – 12pm (Year 2 & upwards)
About:
All sessions begin with a group warm up and a gentle jog. Players will divide into groups based on age and ability*and proceed to the pitch. *Groups are created by the senior coach. All sessions will finish with a goal scoring match asking the kidz to transfer what they have learnt into a match situation.
These sessions are designed to expose children to fun, meaningful hard work with a competitive aspect. This includes teaching/embedding good sportsmanship, transferring skills as well as training and competing in all weather.